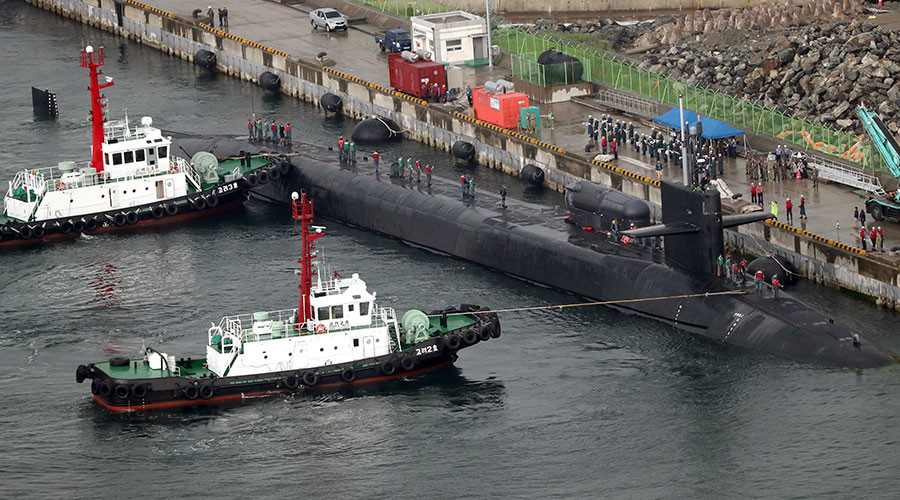 "The USS Michigan, an Ohio-class nuclear-powered submarine, arrives at a naval base in Busan, South Korea, April 25, 2017. © Cho Jueong-ho / Reuters" Image above
North Korea has promised to sink a US submarine currently deployed in South Korean waters if the Americans take provocative action. The statement comes shortly after Donald Trump said he won't be "happy" if Pyongyang conducts another nuclear test.
North Korea's state-controlled Uriminzokkiri news website warned on Sunday that "the USS Michigan won't even be able to rise to the surface when it will meet a miserable end and turn into an underwater ghost."
North Korea's nuclear deterrent will assure that American aircraft carriers, nuclear submarines, and other military hardware will be "shattered into pieces of molten metal" if they threaten Pyongyang, the article read.
The deployment of the USS Michigan submarine and the USS Carl Vinson aircraft carrier group near the Korean peninsula "is aimed at further intensifying threats against our republic," it added.
According to the article, recent statements coming from the Trump administration indicate that Washington is close to implementing a strategic scenario in which an actual military confrontation is a real possibility.
Earlier on Sunday, Donald Trump told CBS that he "will not be happy" if North Korea conducts another nuclear test.
When asked to clarify, the US president said: "I would not be happy. If he (North Korean supreme leader, Kim Jong-un) does a nuclear test, I will not be happy."
"And I can tell you also, I don't believe that the president of China, who is a very respected man, will be happy either," Trump said, adding that he believes Xi Jinping was also "putting pressure" on North Korea to bring a halt to its nuclear tests.
CBS host John Dickerson then directly asked Trump whether US military action was possible, the US president replied: "I don't know. I mean, we'll see."
On Saturday, the North Korean military unsuccessfully fired a mid-range ballistic missile, which reportedly crashed shortly after launch, making it the country's third failure in April.
Pyongyang's ballistic missile tests have been banned by the UN, as they are considered to be part a North Korean program aimed at building a nuclear-capable missile."
Source: https://www.rt.com/news/386673-korea-sink-us-nuclear-submarine/